Frequently Asked Questions about Annie Oakley
Annie Oakley, the person | Buffalo Bill's Wild West Show | Annie's shooting | Annie's guns | Hollywood
Annie Oakley, the feminist | Where did Annie Oakley Live? | Learn more
Annie Oakley, the person
What was Annie's real name?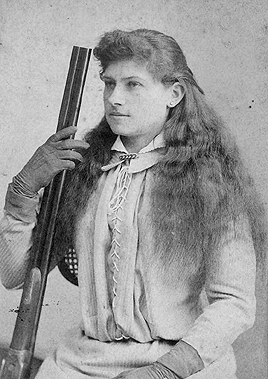 Annie was christened Phoebe Ann, born on August 13, 1860, the fifth daughter of a poor Darke County, Ohio farm couple, Susan and Jacob Moses.
The family name has been ever since a source of confusion. Annie's brother, John, born a two years later,insisted that their name was Moses. Annie was equally insistent that it was Mosey, or Mozee. The family name had also apparently appeared in the census as Mauzy, and Jacob was buried as Mosey. For convenience, biographers have generally remembered her as Mrs. Annie Oakley Butler, née Phoebe Ann Moses.
How did Annie start shooting?
From the age of five, Annie had trapped birds and small animals to help supply food for her family. At about age seven, she tried using the old muzzle-loading gun that had belonged to her father in hopes of bagging even more game. She seemed, as she said, to have been born with shooting skill.
Annie found that her happiest times were those spent in the woods and the fields. She was so good at shooting that she was able to help provide a living for her family. Greenville, Ohio merchant Charles Katzenberger bought all of the game Annie could provide, and he distributed it to restaurants and hotels around the region. Annie's reputation as a shooter began to grow.
What was Annie's early life like?
In the winter of 1865, Annie's father, Jacob, was driving a team of horses into town to purchase supplies and to have corn and wheat ground at the mill. He was caught in a blizzard. Jacob died in March 1866 at the age of 67 of injuries and related illnesses sustained during that snowy ride.
Annie's great-grand niece, Bess Edwards, tells the story as it was told to her by her grandfather (Annie's brother).
Widowed with seven children, Annie's mother, Susan, was forced to move to a smaller home. The children ranged from age 15 to 2 years old. They all worked hard each day to provide food and provisions to keep the family together. Every evening, no matter how tired they were, Susan would gather them all around her to sing hymns and pray. She came from a Quaker background, and she wanted to instill her values in her children.
Mary Jane, the eldest of the children, died of tuberculosis at age 15. Annie's mother was forced to sell the pet milk cow named "Pink" to pay for Mary's doctor and funeral expenses.
Times were tough, money was short, and food was scarce. Drastic measures had to be taken. There was a prosperous family by the name of Bartholomew who were more than willing to take care of Susan's youngest child, Hulda, for a short time.
Susan was a good caregiver and helped families who needed a nurse. This job included housework and cooking for the family. She was paid $1.25 per week, which helped but did not solve the problem. Mrs. Edington, whose husband was Superintendent of the Darke County Infirmary (the county "poor farm"), asked Susan if Annie might come to the home to sew and help with the younger children.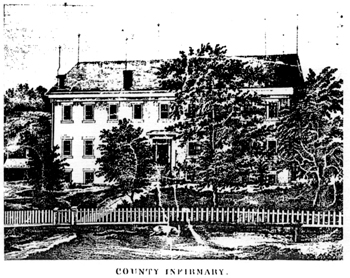 The "wolves"
After three weeks at the Infirmary, a man came in saying that he wanted a small girl as company for his wife. Annie wrote about it later in her 1925 autobiography.
"The girl would have no work, he said, except to watch the three-week-old baby boy. He looked at all of the little girls, then asked Auntie [Mrs. Edington] about me....I told Auntie that I wanted to go, so she sent a letter asking my mother. The man was to come back for me in two weeks and see if mother consented. She did and I went away with him."

"All went well for a month. Then the work began to stack up. I got up at four-o'clock in the morning, got breakfast, milked the cows, fed the calves, the pigs, pumped water for the cattle, fed the chickens, rocked the baby to sleep, weeded the garden, picked wild blackberries, got dinner after digging the potatoes for dinner and picking the vegetables -- and then could go hunting and trapping."

"Mother wanted me to come home. But they wouldn't let me. I was held prisoner. They wrote all the letters to my mother telling her that I was happy and going to school."

....

"One night I nodded over the big basket of stockings I had to darn. Suddenly the "She-Wolf" struck me across the ears, pinched my arms and threw me out of doors into the deep snow and locked the door. I had no shoes on and in a few minutes my feet grew numb. I was slowly freezing to death. So I got down on my little knees, looked towards God's clear sky and tried to pray. But my lips were frozen stiff and there was no sound."
Annie was 10 years old.
She eventually ran away from the "wolves", walking to a train depot, but didn't have enough money for a ticket. A kindly man listened to her story, bought her food, and then bought her train ticket.
"For years," Annie wrote, "I prayed to God each night to keep the good man who helped me away from the wolves."
Her mother was away so Annie went to a friend of her mother's named Shaw. The Shaws took her in and cared for her while her mother worked, until the "He-Wolf" showed up at Annie's school one day. With the help of six-foot-two Frank Edington, the "He-Wolf" was turned away and did not return.
"In the years since then," Annie wrote, "people have asked me 'But why do you give as you do? Why do you not spend more on yourself?' If I spend one dollar foolishly I see tear-stained faces for little children beaten as I was."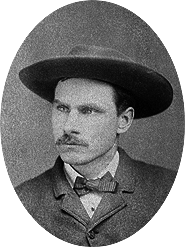 How did Annie meet Frank Butler?
In 1875 Annie visited her married sister, Lydia Stein, who lived near Cincinnati. Hotelkeeper Jack Frost, who knew Annie's reputation as a shooter, arranged a match with a professional exhibition shooter named Frank Butler. The match was run according to the regular rules of trap shooting. Frank shot 24 out of 25 birds. Annie won, killing all 25 of her birds.
Frank later would say that he had lost as soon as he saw the pretty and shy 15-year-old girl step to the mark. What is certain is that he had fallen for her. In his professional shooting act, he was assisted by a dog, a French poodle named George. Annie fell for George. So Frank courted Annie by sending her letters and cards "signed" by George.
Frank and Annie were married. That is certain. When and where they were married is less clear. It seems most likely that they wed in Cincinnati in 1876 when Annie was 16. However, a marriage license survives that shows them being married in Ontario in 1882. Perhaps Frank had discovered that his divorce from his first wife, Elizabeth, had not been final in 1876. Perhaps the second license was an effort to support the show-business fiction that Annie was six years younger than she really was.
Perhaps they really did not marry until 1882.
Near the end of her life though, Annie firmly stated that they had wed on August 23, 1876, and had enjoyed nearly fifty years of happy marriage.
Annie's great-great-grand niece, Bonnie Perry, passes on how Frank loved to tell tall tales to the children of the family, including one about a suddenly magical tree in the childrens' back yard.
Where did Annie's stage name (Oakley) come from?
How did Annie Oakley adopt the stage name "Oakley"? Well, she was so successful at keeping her private life private that there still are significant mysteries. No one knows for sure where the name Oakley comes from. There are several suggestions. For example, one guess is that she took the name of a man who paid her train fare when she escaped from "the wolves." But she stated several times that she regretted not having learned his name.
It seems most likely that she took the name from a place at Cincinnati called Oakley. What is certain is that it was a good choice. The name "Annie Oakley" has a ring to it that caught and still holds the public imagination.
Did Annie Oakley ever have children?
Annie and Frank had no children of their own, but they doted on their nieces and nephews, wrote often to them, and brought them many gifts. Grand nephew Don Blakeley remembers with delight the boxes of candied orange that his Aunt Ann sent him during her travels. In his last will and testament, Frank left bequests to his first wife, Elizabeth, and to his daughter. In her will, Annie especially remembered her sisters Emily, Hulda, and Ellen, and her brother John. She also left specific bequests to her nieces Fern, Bonnie, and Irene, and to several great-nieces and nephews.
Annie's great-grand niece, Bess Edwards, remembers a story about Annie's encounter with a young fan.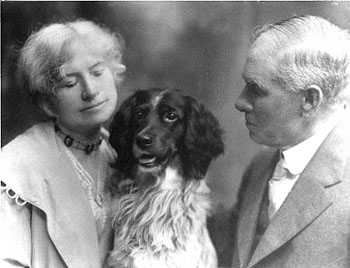 I've heard that Annie Oakley had a dog as part of her act. How did that happen?
In Cambridge, Maryland, Frank adopted a black, tan, and white English setter that had looked at him with deep, soulful eyes. He named the dog Dave after show-business friend Dave Montgomery. Before long, Dave had become, as one visitor put it, a "genial" member of the family.
Dave also enjoyed hunting. He became so accustomed to shooting that the Butlers made him part of their act. He sat patiently as Annie shot an apple off his head. During World War I when the Butlers toured Army camps and raised money for the Red Cross, Dave became known in the press as "Red Cross Dave." Annie and Frank sent Christmas cards to friends with his picture and signed "Dave Butler."
Tragically for the Butlers, Dave was struck and killed by an automobile at Leesburg, Florida, in 1923. The Leesburg newspaper said that Annie and Frank "feel the sorrow that parents would feel for the loss of a child." Frank published a popular story entitled "The Life of Dave, As Told by Himself."
There is a story that Dave the dog loved to have his ears "ironed" by Annie. Annie's great-great-grand niece, Joan Dowler, explains exactly what that means.
How did Annie die?
The Butlers often returned to Ohio where they felt at home among family.
Annie's great-great-grand niece, Joan Dowler, reads an interview with Annie's grand nephew, Don Blakeley, about Annie and Frank visiting his house. She also remembers a little family story about Annie paying the kids of the house a small amount to bring her breakfast every morning. The winery she mentions is currently the Winery at Versailles.
Then, in failing health, Annie moved to Dayton in December 1925 to be with her sister Emily and her family. In 1926 she came back to Greenville where she died on November 3. The immediate cause of death was given as pernicious anemia.
Frank, visiting niece Fern in Michigan, died on November 21. Annie's remains were cremated. Mr. and Mrs. Butler were buried together in the Moses family plot at Brock.
Who were Annie's family members?
Frank Butler
Frank was ten years older than Annie. Born in Ireland in 1850, he worked his way to the United States in 1863. He worked at many odd jobs, including helping to manage a traveling dog-and-pony show. By his early twenties, he was an accomplished exhibition shooter and enjoyed some success in variety theater with a shooting act. In 1877, he became an American citizen.
By nature, he was a gentle and happy man who made friends easily. He did not smoke, drink, or gamble, and the poverty in which he was born had taught him to be hard-working and frugal. Like Annie, he was generous to those he thought wereless fortunate than he.
Frank also had a romantic flair and a sense of showmanship. He wrote many poems for Annie, and he taught her how to express her personality on stage and in the arena.
His marriage with Annie was a partnership in the best sense of the word. He was never jealous of her stardom. He never seemed embarrassed to be known as "Mr. Annie Oakley", and his friends were her friends.

Susan Wise Mosey Brumbaugh Shaw
Annie's mother, Susan Wise, was the daughter of Jacob Wise and Emily Clapper. She was born in 1832 in Blair County, Pennsylvania. In 1848, at the age of 16, she married Jacob Mosey, who was 33 years her senior. They migrated to Darke County, Ohio, and made their home on a farm near Woodland (Willowdell). By 1865, Susan and Jacob had nine children. Catherine died at seven months old, and an unnamed boy was stillborn leaving them with seven living children.
In the winter of 1865, Jacob was driving a team of horses into town to purchase supplies and to have corn and wheat ground at the mill. He was caught in a snowstorm. He fell ill and died in March 1866 at the age of 67. (Note: Jacob gave his age as 61 in the 1860 census. This means he died at age 67. The tombstone that Annie bought years later, however, says that he died at 82.) Widowed with seven children, Susan was forced to move to a smaller home. The children ranged from age 15 to 2 years old. They all worked hard each day to provide food and provisions to keep the family together.
Mary Jane, the eldest of the children, died of tuberculosis at age 15.
Susan was a good caregiver and helped families who needed a nurse. This job included housework and cooking for the family. She was paid $1.25 per week, which helped but did not solve the family's financial problems.
In 1867, Susan married Daniel Brumbaugh, who was 22 years older than she. He was a widower whose children were married and gone from home. They welcomed the birth of Emily in 1869, but one year later, Daniel died leaving Susan alone with another child and no money. Susan continued working in home health care.
With the help of the older children, they struggled for four years. In 1874, Susan married Joseph Shaw, who was 30 years her senior. Joseph had a little money so they were able to build a house. Susan now had a place for all her children to call home. Joseph died in 1887 after 13 years of marriage. Susan was 55 years old.
Little is known about Susan from her birth to the time she married Jacob. The prosperity of the 18-year marriage seemed to be the seven living children. The next marriage to Brumbaugh lasted only three years but produced another child, and the last marriage to Shaw produced a home and a little income.
Susan had a rough life, but she lived until she was 76 years old. She was able to witness the years of stardom of her fifth child, Annie Oakley.
---
Images courtesy of the Darke County Historial Society
Annie Oakley Center Foundation, Inc., P.O. Box 1025, Greenville, OH 45331info@annieoakleycenterfoundation.com