The National Annie Oakley Center at Garst Museum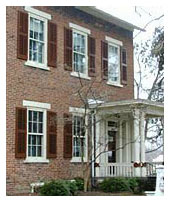 Walk with Annie Oakley as you visit The National Annie Oakley Center at Garst Museum's exhibition of her life and history. You may be surprised as you discover Annie's true personality. Unlike Hollywood's image of a wild west, rough-and-tumble tomboy, Annie was a petite woman who loved lace, silver, beautiful furnishings and elegant clothing and was blessed with physical athleticism.
Garst Museum is a large historical museum with over 300,000 artifacts on display in over 35,000 square feet of exhibit space within six building wings. Major exhibits are The National Annie Oakley Center, Crossroads of Destiny, American Indians, Lowell Thomas, the Village, agricultural and military exhibits.
Learn more about the Garst Museum from its website or visit in person at
Garst Museum
205 North Broadway
Greenville, OH 45331
Phone: 937.548.5250
information@garstmuseum.org
Here is a quick look at the Annie Oakely Center and its program for children.
---
Images courtesy of the Darke County Historial Society
Annie Oakley Center Foundation, Inc., P.O. Box 1025, Greenville, OH 45331info@annieoakleycenterfoundation.com