Frequently Asked Questions about Annie Oakley
Annie Oakley, the person | Buffalo Bill's Wild West Show | Annie's shooting | Annie's guns | Hollywood
Annie Oakley, the feminist | Where did Annie Oakley Live? | Learn more
Where did Annie Oakley live?
We often wonder where famous people lived throughout their lives and perhaps even drive by out of curiosity. Annie Oakley lived in a number of places. Some are still standing and others have been razed over time. The following is a timeline of those places Annie Oakley called home during her life:
1860–1866 First home outside Woodland, now Willowdell (no picture)
1867–1870 Daniel Brumbaugh, Annie's mother's second husband, home (no picture, location unknown)
March 1870 Annie and Ellen are admitted to the Darke County Infirmary (William Thompson is the superintendent.)
1870 Annie goes to the Abram Boos/James P. Reynolds home in Preble County, Ohio. Also living in the household was Elizabeth Boos and daughter Lydia Boos Reynolds, and grandson Edward Reynolds, age 5 months. (no picture)
1872 Annie returns to the Darke County Infirmary (Samuel Crawford Edington is superintendent beginning in 1871. His wife is Nancy Daugherty Edington.)
1872–1876 Annie is discharged from the infirmary on October 7, 1876. She goes to live with Susan and Joseph Shaw. Susan had bought 10 acres in Wabash Township from Ann Woods on March 9, 1876. This is along Route 127 near North Star, Ohio. At this location a house was built, and Annie paid off the mortgage on the house with her earnings. The land was sold on June 26, 1908, but is still marked by signage.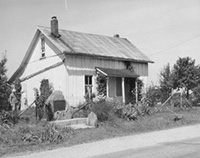 House on St. Route 127 near North Star, OH
1892–1904 Annie and Frank bought two lots from J. Fisher Satterthwaite and began building a home at 300 Grant Street, Nutley, New Jersey, in the fall of 1892. When the home was completed in 1893, and Annie and Frank moved in that December. The house was sold to Joseph Stirratt in 1904 and was demolished in August 1937.
1910 Frank and Annie were living in the Pinehurst Hotel in the Manhattan District of New York City, New York. The location of the hotel was at the corner of 180th Street and Fort Washington Avenue. They appear in the 1910 census at this location. This is the first and only time they appear in a census together. The hotel is no longer there.
1913–1917 Originally, they bought two lots. Annie and Frank had a house, as well as a garage with a studio apartment upstairs, built at 28 Bellevue Avenue, Cambridge, Maryland. Annie designed floor-to-ceiling book shelves and had them constructed to display her trophies and awards in the large living area. This house was the first one built in this new subdivision. The property extends to the edge of Hambrooks Bay. The house was sold to Robert L. Hamill in May 1917 for $8,000. The Cambridge house, which is now privately owned, is on the National Register of Historic Places.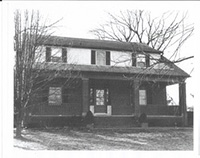 House in Cambridge, MD
1924–1926 Annie and Frank returned to Ohio establishing residence in an apartment at 23 Lexington Avenue in Dayton. This structure still stands. They later moved to a two-story home at 706 Lexington Avenue. This home was torn down. As Annie became weaker and Frank suffered from dementia, they moved into the Dayton home of Emily Patterson, Annie's sister, at 2334 Salem Avenue in Dayton.
| | | |
| --- | --- | --- |
| House at 23 Lexington Ave., Dayton, OH | House at 706 Lexington Ave., Dayton, OH | House on Salem Ave., Dayton OH |
1926 In September, Annie went to the home of Rush and Bonnie Blakely near Dawn to stay. When her condition worsened, Annie was taken to 227 East Third Street, Greenville, Ohio, to the boarding house of sisters Harriet Zemer and Kate Broderick. Six weeks later, Annie passed away peacefully in her sleep. Annie had told Frank to go on to Florida for the winter. He had started out but wanted Annie's niece Fern to go with him. Fern wasn't able to do so right away and arranged for Frank to come to Royal Oak, Michigan, where she was living, to stay with her and her mother Hulda, Annie's sister. Frank was there when the news came that Annie had passed. He followed three weeks later.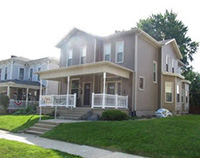 House at 227 Third Street, Greenville, OH
Following Annie's retirement from show business, she and Frank spent their winters in various locations. They spent many winters in The Hotel Carolina in Pinehurst, North Carolina. They also frequented Mayview Manor at Blowing Rock, North Carolina; New Castle by the Sea in Portsmouth, New Hampshire; and Atlantic Highland in New Jersey. In later years, they wintered at the Lakeview Hotel in Leesburg, Florida, and Kamp Komfort on Treasure Island.
---
Images courtesy of the Darke County Historial Society
Annie Oakley Center Foundation, Inc., P.O. Box 1025, Greenville, OH 45331info@annieoakleycenterfoundation.com