Frequently Asked Questions about Annie Oakley
Annie Oakley, the person | Buffalo Bill's Wild West Show | Annie's shooting | Annie's guns | Hollywood
Annie Oakley, the feminist | Where did Annie Oakley Live? | Learn more
Hollywood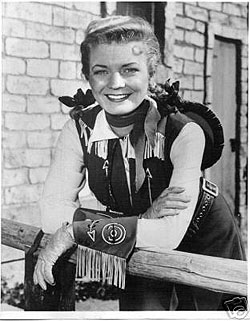 After retiring from Buffalo Bill's Wild West, Annie starred in a successful melodrama written especially for her. She played Nance Barry, a heroine who saves the hero and wins his heart.
Audiences identified Annie Oakley with the West. She was "the western girl," even though she never claimed to be from anywhere else but Ohio. One reason, of course, is that she became famous in the Wild West show and was identified with cowboys and Indians. But she also had mastered all of those skills that people associate with the West shooting, riding, and even throwing the lasso.
Gene Autry's Flying A Productions created a highly successful television western in the 1950s called "Annie Oakley." Except that she was pretty, petite, and athletic, the Annie portrayed by Gail Davis had almost nothing in common with the real Annie Oakley.
But Annie Oakley has suffered the fate of other larger-than-life American characters. She has become part of our folklore, our popular culture. Her real-life qualities of courage and integrity, and her skills with a gun, adapt easily to fiction and play-acting. Her real-life hardships and modesty do not.
Still, if she had chosen the image that these souvenirs convey, she could not have done much better. Her motto, "Aim at a high mark," always shines through in the Annie of our imagination.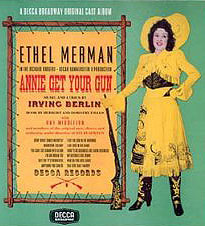 One of the most successful musicals in Broadway history opened in New York on May 16, 1946 with Irving Berlin's favorite singer, Ethel Merman, in the title role.
Within a year road shows began touring America with stars such as Mary Martin, Dolores Gray, and Florence Henderson playing Annie.
When MGM decided to film the musical, they started with their biggest singing star, Judy Garland. When Garland was unable to meet the schedule, blond Betty Hutton took over.
The musical has never been out of production in school and regional theaters. Then in 2000, the play was updated and restaged for Bernadette Peters. "Annie" was again a big hit. Reba McIntire also lent her distinctive style to the Irving Berlin score.
---
Images courtesy of the Darke County Historial Society
Annie Oakley Center Foundation, Inc., P.O. Box 1025, Greenville, OH 45331info@annieoakleycenterfoundation.com