Frequently Asked Questions about Annie Oakley
Annie Oakley, the person | Buffalo Bill's Wild West Show | Annie's shooting | Annie's guns | Hollywood
Annie Oakley, the feminist | Where did Annie Oakley Live? | Learn more
Buffalo Bill's Wild West Show
Annie and Frank were contracted to perform with the Buffalo Bill's Wild West Show in April 1885. Annie wrote of her regard for Buffalo Bill.
"William F. Cody was the kindest hearted, broadest minded, simplest most loyal man I ever knew. He was the staunchest friend. He was in very fact the personification of those sturdy and lovable qualities that really made the West, and that are the final criterion of all men; East or West. The popular pastime of clothing him with the attributes of the daredevil and casual cowboy is pure fiction. For example, in order to keep up the tradition the papers were full of a story of his calling for a pack of cards the last day. It was a clear invention. He practically never played cards. Like all really great and gentle men, he was not even a fighter by preference. His relations with everyone he came in contact with were the most cordial and trusting of any man I ever saw."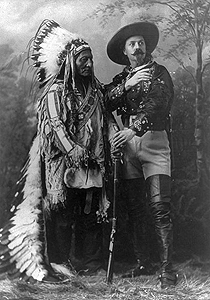 How did Sitting Bull and Annie Oakley meet?
Sitting Bull was the most distinguished and famous Indian leader of his generation. It was his political influence that had drawn so many tribes and families together at the Little Bighorn in 1876. Hence, he was generally credited -- or blamed -- with the defeat of Custer.
In 1884, Sitting Bull was living near the Hunkpapa Sioux agency at Standing Rock, in what is now southern North Dakota. He had been given leave to accompany a sometime showman, Alvarez Allen, on a tour of cities. His goal was to bring money and attention to his people on the reservation. Allen's goal was simply to exploit the notoriety of Sitting Bull.
In March, at St. Paul, Minnesota, Sitting Bull watched Annie and Frank perform. He was enthralled by her skills and her personality, and he arranged to meet her. He called her Watanya Cicilia, Lakota for "Little Sure Shot."
"He had asked me to take the place of the daughter he lost shortly after the Custer massacre," Annie wrote in her autobiography. "She had made the moccasins he wore in the fight -- in the struggle where he pittied his brain against that of the white man. He fought justly, for his people had been driven from their God-given inheritance and were living upon broken promises."

"Sitting Bull's daughter was about my age at the time of my adoption, when he gave me the moccasins he so prized."
The following year, Sitting Bull traveled with Buffalo Bill's Wild West where he was treated with considerable dignity. There he and Annie became friends, and he adopted her as not only a member of the Hunkpapa Lakota but as a daughter. Annie took the honor seriously and wrote of Sitting Bull as her "adopted father."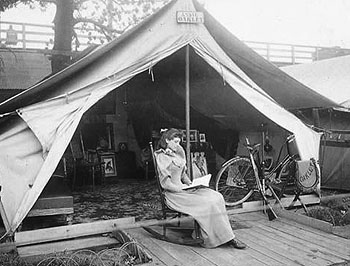 What was Annie's life like on the road?
For most their adult lives, Annie and Frank lived and dressed -- literally -- out of a trunk. In fact, Annie did not want closets in her homes. Frank acknowledged that Annie was a terrible housekeeper. But she was extremely efficient at furnishing a tent or hotel room and at packing a trunk.
Annie always yearned for a domestic life. When she achieved it, she found she was too restless to enjoy it. In 1893 she and Frank built a house in Nutley, New Jersey, which they kept until 1904. They sold it and lived in a New York apartment while continuing to travel. In 1913 they again attempted domesticity by building a home in the "sportsman's paradise" of Cambridge, Maryland. Though they enjoyed the hunting and the boating, once again Annie could not settle down to housekeeping. For the rest of their lives they spent seasons regularly at the Lakeview Hotel in Leesburg, Florida, and The Carolinas at Pinehurst, North Carolina. They also enjoyed stays in a resort near Portsmouth, New Hampshire, and on the Long Island hunting estate of their friend, Fred Stone. Everywhere they went, Annie and Frank were resident celebrities and gave demonstrations of their shooting for friends and guests.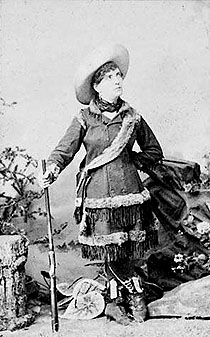 What was between Annie Oakley and Lillian Smith?
Lillian Smith was a 15-year old shooting whiz hired by Buffalo Bill in 1886. She called herself "the Champion Girl Shot." It has been suggested that because of Lillian Smith, the Wild West show publicity men shaved six years from Annie's age, claiming that she was born in 1866. Annie Oakley disliked Smith from the beginning. For one thing, Annie did not like the term "champion" and refused to use the word to describe herself. More important, Lillian Smith was, in Annie's eyes, an immoral flirt. When Buffalo Bill refused to fire Smith after the 1887 season, Annie and Frank left the show for one year.
Iin 1888 Smith ran off with a cowboy and surfaced a year later in the United States -- with her skin artificially darkened -- as "Princess Winona, the Indian Girl Shot."
With Lillian Smith no longer in the show, Annie and Frank rejoined Buffalo Bill's Wild West in time for its appearance at Paris in 1889.
Annie, the life-long celebrity
At the height of her career, Annie made more money than anyone at the Wild West Show, save Buffalo Bill, himself.She was also in high demand for shooting competitions and exhibitions. Even long after her retirement, she was still a considered a celebrity.
Annie Oakley's great great grand niece, Joan Dowler, reads from an interview with her great great aunt Irene Black. Irene remembered a day when Will Rogers went to visit Annie Oakley in Dayton, Ohio.
---
Images courtesy of the Darke County Historial Society
Annie Oakley Center Foundation, Inc., P.O. Box 1025, Greenville, OH 45331info@annieoakleycenterfoundation.com