New Book About Annie Oakley

Personal Pages from Annie Oakley and Frank Butler, written by Marilyn Robbins, begins by answering some of the most asked questions about Frank and Annie. It also contains personal letters that the couple wrote, from the Garst Museum's collection at the National Annie Oakley Center in Greenville, Ohio.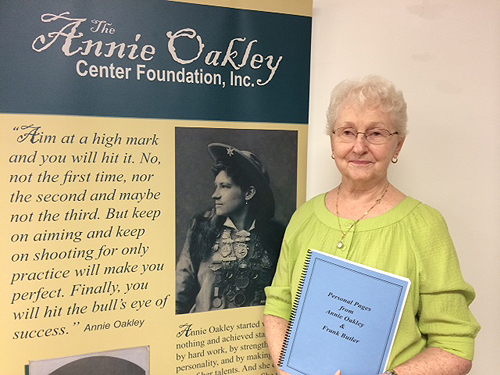 Marilyn Robbins describes how Annie Oakley fought to clear her name after a false article was printed in a 1903 newspaper and reprinted by many newspapers throughout the country. Annie wrote, "Then one morning I saw that terrible piece in the paper. It nearly killed me." Annie Oakley Butler sued 55 newspapers for slander. It was an expensive and laborious effort. She was vindicated, but court transcripts show just how difficult a process it was.
Personal Pages from Annie Oakley and Frank Butler by Marilyn Robbins, can be purchased from the Garst Museum Store by visiting the museum at
205 North Broadway
Greenville, OH 45331
You can also email store@garstmuseum.org or call 937-548-5250.
---
Images courtesy of the Darke County Historial Society
Annie Oakley Center Foundation, Inc., P.O. Box 1025, Greenville, OH 45331info@annieoakleycenterfoundation.com