Garst Has You Covered!
The Annie Oakley masks are made with two layers of 100% cotton and sewn from custom-printed fabric featuring the iconic portrait of Annie. Masks are $15 plus tax, and shipping if applicable.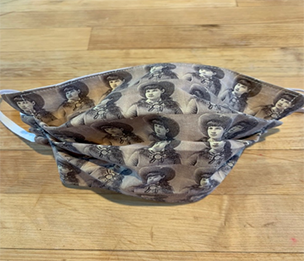 The Annie bandAnnies are available exclusively at the Garst Museum Store. The store is presently taking online orders through the website at www.garstmuseum.org/museum-store and shipping to customers.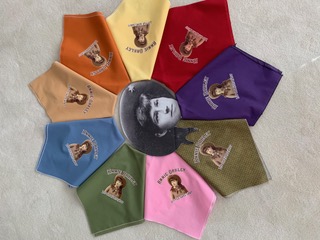 Annie bandAnnies feature Annie's famous portrait printed in a technique known as direct-to-garment printing, which allows fine details to appear crisp and clear. BandAnnies are available in a variety of colors (blue, pink, orange, green, tan, red, yellow, purple, or pin dot/olive). The cost is $12.50 plus tax, and possible shipping charges.
You can be COVID chic in an Annie Oakley mask. If you choose a bandAnnie, you sport a versatile look when you are out in public, at the horse show, or even working in the garden. These are must-haves for any Annie Oakley enthusiast!
---
Images courtesy of the Darke County Historial Society
Annie Oakley Center Foundation, Inc., P.O. Box 1025, Greenville, OH 45331info@annieoakleycenterfoundation.com