In Memoriam: The Annie Oakley Foundation
This page is dedicated to the memory of Bess Edwards and her creation of the Annie Oakley Foundation. Bess' grandfather, John, was Annie Oakley's sister. Bess' tireless efforts to promote the accurate memory of her great great "Aunt Ann" have continued with our Annie Oakley Center Foundation. Read about the Annie Oakley Foundation and Bess' accomplishments on behalf of Annie.
Mission
The mission of the Annie Oakley Foundation is to provide accurate information on the life and legend of Annie Oakley and to disseminate educational materials to schools, libraries and museums.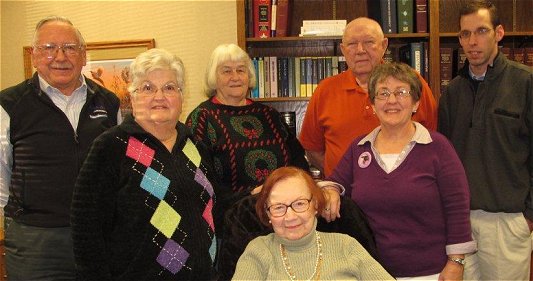 Board of Directors for the Annie Oakley Foundation in 2017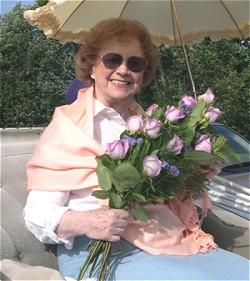 Bess Edwards - Great grandniece of Annie Oakley
History of the Annie Oakely Foundation
The Annie Oakley Foundation, a nonprofit, 501(c)(3) organization was created and incorporated in 1984 by her closest living family members, Bess Edwards and Lavon Grawburg, grandnieces of Annie Oakley. The aim of these direct relatives was/is to clarify and authenticate the life and career of this Ohio pioneer woman. After the death of her cousin, in 1992, Edwards has carried on the research to honor their commitment.
On the way to achieving the mission, troubling flaws were found in the early biographies of Phoebe Ann Mosey. Endless effort, which grew from a few months to years, has been put forth to research and correct false allegations, and erroneous, long-held beliefs. These efforts included searching early census on National Archives microfilm; corresponding with historians across the nation; studying the many scrapbooks compiled by Annie and her husband, Frank Butler; and using Annie's unfinished autobiography. News of renewed interest, honors and film-shoots have been covered in our newsletter "Taking Aim," which began in 1988.
Although Annie was not a westerner, she had always been identified as one by writers and filmmakers because of her role as the star attraction with the Buffalo Bill Wild West show. Annie blazed a trail in many areas of sports and entertainment.
Interest in her life and career has grown because of the remarkable way she and Frank Butler, her husband-manager and agent, handled her career and her celebrity. She has become a role model for students and foundation members ranging in age from nine to ninety.
Telling It Like It Was
The Foundation has invested much time, effort and money producing Annie Oakley: American Legend, the film which will finally "tell it like it was." Proceeds from the sale of this DVD will help fund continued educational outreach programs.
The "Spark Plug" of the Annie Oakley Foundation is Bess Edwards, Annie Oakley's great grandniece.
Along the way, The Annie Oakley Foundation has also assisted with arrangements for the following:
Conducted in-depth research in many places in the US, Canada, UK, on Annie's life and work. This research included information regarding Annie's birth, childhood, marriage, life work and death.


Induction into the National Women's Hall of Fame in 1993, after one nomination.


Worked with the US Postal Department to have an Annie Oakley Commemorative Stamp issued by furnishing images and recommendation over a 13 year period. It was issued as a 29 cent stamp.


The first film, In the Name of Love, focused on the 46-year, happy marriage of Annie to Frank Butler. It was one in a series called Amazing Love Stories, which Hearst Entertainment produced for Lifetime Cable.


A segment in a documentary film to celebrate the 75th Anniversary or the Women's Rights Movement. Filmed in Darke County by Alvin Cooperman, producer for ABC.


Assisted many authors in publishing accurate articles and books on Annie and Frank, including those landmark works by Glenda Riley, Alan Gallop and Isabel Sayers. See Tom Schiffer's book, Peters & King (there's one in the Garst collection). In addition to information, photos from the family were loaned for publication.


Three short interviews filmed on various Annie historical sites became "film-bytes" for PBS-Columbus, NBC-Dayton and CBS-Cleveland. The last one was shot at an Annie site by the Cleveland crew, and was used as film bytes for the premier of Buffalo Girls, in which Reba McIntire played Annie.


The Circus Hall of Fame in Peru, Indiana, inducted Annie Oakley into their Hall and Museum of Actors in July, 1998.


Greystone Communications, Inc. was commissioned by Disney to produce the life story of Annie Oakley. The Foundation assisted by making arrangements in advance for the shoot. In addition, 19 personal slides were loaned for the film which was shown on the Disney owned History Channel in its Biography series.


Wrote and published articles in such works as the prestigious Double Gun Journal and the foreword for National Geographic's fine book about Annie, and titled Bullseye.


Hundreds of inquiries about Annie's early life led us to encourage Governor Taft to rename US Highway 127 as the Annie Oakley Memorial Pike. It passes where Annie Oakley's girlhood home stood until the early 1950's when it was razed for road improvements. Personal testimony before the Ohio Senate and the House of Representatives let to the unanimous approval, and Govern Taft's signing, of House Bill 481. The Dedication Ceremony was held in Greenville, Ohio on July 28, 2000.


Worked with Bill Edwards to create a chronology of Annie Oakley's life. As yet unpublished, it consists of over 1000 manuscript pages.
Contributed to countless magazine and newspaper articles locally, nationally and abroad where the name of Bess Edwards, and the Annie Oakley Foundation, will be found (and often not found) in the acknowledgements and credits.


Directed a video on Annie's life story that is accurate, attractive and interesting for adults and children alike. This video was produced by Brad Wallace and by the Annie Oakley Foundation, in part funded by a grant by KitchenAid.


Maintained a presence in Greenville, Ohio for many years. The Annie Oakley Foundation, through its Chairman of the Board and Secretary, worked with the Darke County Commissioners, promoting the establishment of an Annie Oakley Center, by that name, in Darke County.


Made the Annie video available to all 88 county libraries in the State of Ohio, and, by extension, to all schools in the state…the primary purpose of the video is education.


Through Kentucky Unbound, our video is available now, not only to all states in the union, but to all the world through the internet. Feedback shows usage from all over Ohio, West Virginia, the Dakotas, United Kingdom and Australia.